David Attenborough's Great Barrier Reef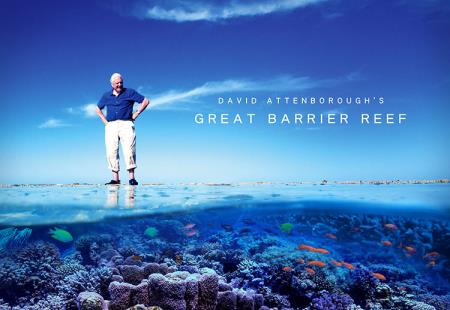 With astounding cinematography, cutting-edge scientific research and beautifully assimilated CGI, David Attenborough embarks on a unique, compelling and imaginative journey through the past, present and future of Australia's mighty Great Barrier Reef.
SYNOPSIS
In 1957, Sir David Attenborough first visited and scuba dived on one of our planet's most extraordinary creations, the Great Barrier Reef. Shrouded in mystery and mostly inaccessible, he always wanted to go back to further explore the ecosystem he describes as "like no other in the natural world". Sixty years on, using brand-new technology and the latest scientific research, David has the opportunity to unlock the secrets of the Reef as he embarks on a personal journey that reveals the true extent of its diversity, characters and complexity along the way.

For this series, David climbs aboard the Alucia, a 56-metre research and exploration vessel equipped with a state-of-the-art Triton submersible, laboratories and a helicopter. It will allow him to take to the seas, and the skies, to give a perspective on the Great Barrier Reef that has never been seen before, and unprecedented access to some of the most remote parts of the Reef and its magical residents and visitors.

Episode titles: Builders, Visitors, and Survival.

DURATION
4 x 50 mins
GENRE
Science, Nature, Attenborough, New
SCREENERS
Please login/register to view screeners for this title.
Stills