Expedition Bhutan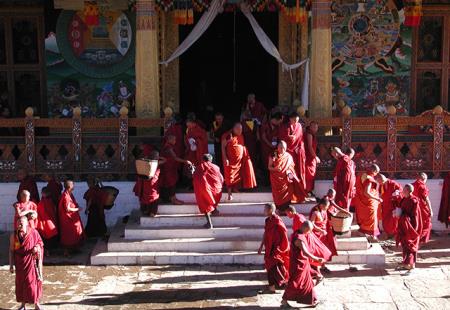 Join the first successful navigation of the Mangde Chhu River, Bhutan.
SYNOPSIS
Adventurer Gerry Moffatt leads an expedition to the remote Himalayan kingdom of Bhutan. The expedition travels through Bhutan, crossing mountain passes, visiting hidden medieval palaces and venturing into one of the most remote areas on earth accessible only by kayak and raft. With special permission to gain extraordinary access to isolated regions of the country, this epic journey takes us into a world never seen by western eyes, following the first people to ever explore the hazardous canyons and waters of the Mangde Chhu, an unmapped river flowing through the heart of this stunning kingdom. Using the latest satellite mapping technology, GPS systems and Google Earth, the team is able to penetrate this unexplored river system for the first time, and to document it in high definition. Fighting though dense jungle and white water, the team comes face to face with the beauty and power of one of the planet's most remote countries and becomes the first group of people to successfully navigate the Mangde Chhu River.This documentary film combines the jeopardy of a compelling story of adventure and exploration with unique access that reveals an undiscovered Himalayan world as we venture into a hidden kingdom on Expedition Bhutan.

DURATION
1 x 100 mins
GENRE
Special
SCREENERS
Please login/register to view screeners for this title.
Stills