Inside The Commons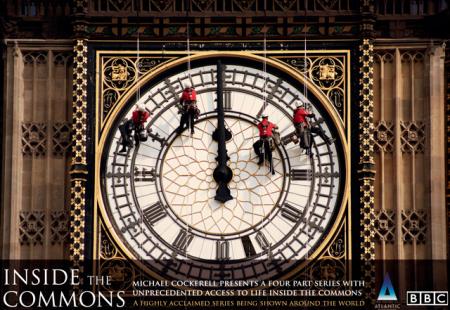 With unprecedented access to the House of Commons, this four-part series examines the ministers and maintenance staff at the heart of this historic building in the year leading up to the general election.
SYNOPSIS
Michael Cockerell presents a major new four part series filmed over the course of a year in the House of Commons. In this pioneering project by Atlantic Productions, camera crews are given unparalleled access to areas normally forbidden to the public and reveal the hidden workings of this iconic institution. Travelling deep inside the corridors of the Palace of Westminster, this series reveals what really went on behind the scenes during a remarkable year in politics in the run up to one of the most unpredictable general elections in British history.

Inside the Commons follows Ministers and MPs high and low as they seek to navigate the machinery of the House, to make laws and fight their constituents' battles. The series also introduces the nation to the people who keep the Commons working: from the keeper of Big Ben and the Hawker responsible for keeping pigeons off the 19th century stonework to the gospel-singing tea lady of the Members' Tea Room. From crumbling stonework to leaky roofs, the series shows the challenges faced as staff strive to keep the country's most iconic and historic building functioning as a modern parliament.

Episode titles:Lifting the Lid, Upstairs Downstairs, Party Games, and Reinventing the House.
DURATION
4 x 59 mins
GENRE
History / Current Affairs, Series
SCREENERS
Please login/register to view screeners for this title.
Stills