Museum Alive 3D
Giant Screen Version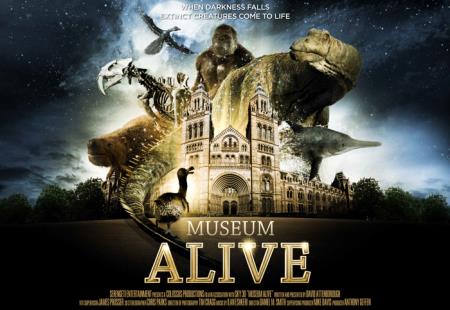 Join David Attenborough in this giant screen adventure as he explores the Natural History Museum after dark, when the exhibitions come to life.
SYNOPSIS
Audiences will be captivated as they are transported into a magical, Hogwarts-like, neo-gothic museum, to enjoy a thrilling adventure as strange and exotic beasts emerge from their display cases and come back to life. But this is not just a Hollywood fantasy:- Museum Alive 3D is the result of an extraordinary collaboration between leading the museum experts and prize-winning special effects animators who together create the most scientifically accurate- and photo- realistic – film of extinct creatures based on the latest interpretations of the fossil evidence.

Providing the link between specimens is a naturalist (David Attenborough) who has been given the privilege of visiting the museum after hours, and who chooses ten of the most scientifically significant and visually exhilarating animals to showcase. By resurrecting them in incredible "living" detail, the film allows Attenborough to interact with them as if they had never died out, while demonstrating how they would have behaved when alive.

Museum Alive 3D unites stunning visuals, exciting story-telling and the latest science to create an experience that is spectacular, enlightening and fun for young and old.

DURATION
Versions: 1 x 40 mins, 1 x 20 mins
GENRE
Theatrical
SCREENERS
Please login/register to view screeners for this title.
Stills