Sphinx Unmasked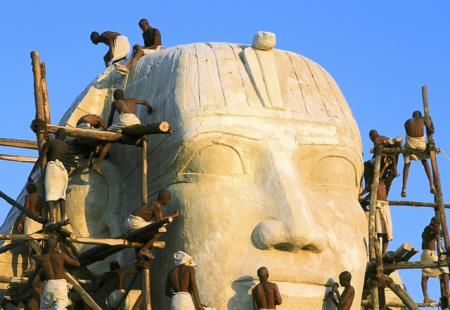 A leading Egyptologist cracks the 4500-year-old mystery of who built the greatest monument in the ancient world and reveals the inspiration behind the enigmatic face of the Sphinx.
SYNOPSIS
It is the largest free standing sculpture ever carved from a single block; an icon recognised around the globe. The Sphinx, a lion with the face of a mighty pharaoh, towers twenty metres high and stretches seventy metres long. It is a silent witness to thousands of years of history – it has gazed upon the Pyramid builders, seen the armies of Alexander the Great pass by, watched as Napoleon tried to carve himself out an African empire, and witnessed the British march to victory over Rommel in the Second World War.

For over 4,500 years it has stood guard in front of the Giza Pyramids, yet it remains one of history's most enigmatic mysteries. Who built it? Who does it represent? When was it built and why? The Sphinx has always provoked more questions than answers - until now. Based in Cairo, top Egyptologist Dr Vassil Dobrev has spent over twenty years researching the Sphinx. Now he is ready to unveil the theory that will challenge everything we thought we knew about ancient Egypt's most iconic monument.

From the makers of Seven Wonders of Ancient Egypt and The Mysterious Death of Alexander The Great, this film combines groundbreaking historical research, evocative dramatisations and cutting edge CGI to re-write the history of one of the world's most iconic monuments in Sphinx Unmasked.

DURATION
1 x 50 mins
GENRE
Ancient Worlds, Special
SCREENERS
Please login/register to view screeners for this title.
Stills