Back to the Titanic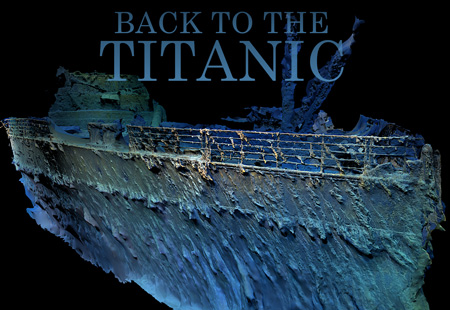 In the first manned dive in 14 years, a team of explorers, scientists and experts revisit the RMS Titanic wreck in a mission to uncover its secrets before it is too late.
SYNOPSIS
On April 12th 1912, the RMS Titanic plunged into the deep, taking over 1,500 lives with it and cementing its place as one of the most famous wrecks in history. Now, over 100 years since it sank, this iconic passenger liner is under threat. Lying almost 4,000 meters down in bitterly cold 1°C water, the wreck has become vulnerable to sweeping eddies, salt corrosion, and metal-eating bacteria, and soon its secrets will be lost forever.

In this ground-breaking expedition, a renowned deep-ocean exploration team led by explorer Victor Vescovo, Titanic expert Parks Stephenson, expedition leader Rob McCallum (EYOS Expeditions), and a technical team from Triton Submarines are on a mission to survey the wreck of the RMS Titanic and assess the damage. Using the submersible camera systems, the team perform dedicated photogrammetry passes on the wreck, producing highly accurate and photoreal 3D models. Alongside worrying signs of deterioration and collapse, they make surprising discoveries that shed new light on the final hours of those onboard. Taken together, this new analysis not only helps to predict the future of this iconic vessel, but also preserves a snapshot of history long after the physical evidence has gone for good.

DURATION
1 x 50 mins
GENRE
History / Current Affairs, Special, New
SCREENERS
Please login/register to view screeners for this title.
Stills