Eat Like A King - Henry VIII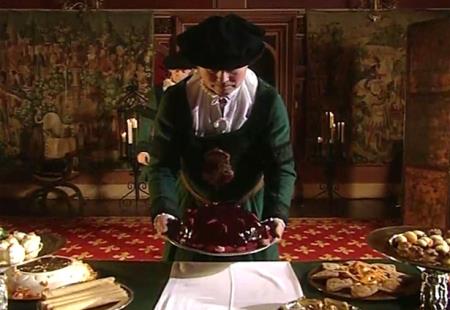 Inside the court of King Henry VIII, we reveal the extraordinary diet of the Tudor monarchs and the elaborate rituals that surrounded the King's daily feasts.
SYNOPSIS
Eat Like A King is a compelling journey back to the private kitchens and dining hall of Henry VIII and reveals the extravagant banquets enjoyed by a Tudor king and the fascinating lifestyle of the royal court.

Best remembered as the king with a record six wives – Henry VIII was a big monarch with an even bigger appetite. Yet the cliché that he sat at the head of a gigantic table of nobles eating whole wild boars and throwing chicken legs to the dogs is almost entirely inaccurate.From spit-roasted dolphin and songbird pie to four-foot castles moulded out of icing sugar, jellies made from deer's antler, and drinks flavoured with pure gold, the court of King Henry VIII ate some of the most unusual and astonishing dishes ever known. Yet what they ate and how they ate it has influenced the whole history of food.

Sumptuously recreated at Kentwell Hall and Hampton Court Palace, with the help of a team of specialists and experts, Eat Like A King takes us on a journey back to the 16th century to discover a meal fit for a Tudor king.


DURATION
1 x 51 mins
GENRE
History / Current Affairs, Special
SCREENERS
Please login/register to view screeners for this title.
Stills