Judi Dench: My Passion for Trees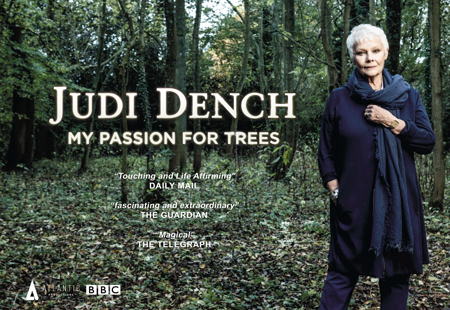 Judi Dench embarks on a magical journey to uncover the mysteries about one of her greatest passions – trees.
SYNOPSIS
Oscar winning actress, Dame Judi Dench has long been fascinated with trees, ever since she was a child she has objected to anyone cutting them down. She shared her passion for trees with her late husband, the actor Michael Williams, and together they nurtured their own arboretum. For the past seven years she has continued to care for this woodland with her close companion, wildlife enthusiast David Mills, and throughout this time Judi has continually planted trees for dear friends and family who have passed.

This film follows Judi's journey through the seasons and her mission to understand her woodland's vital role in our history and our future. With the help of some of the best tree scientists and the latest scientific equipment at her disposal, Judi unlocks the remarkable secret lives of trees. Through the cycle of the four seasons, she'll hear her trees drink, discover how they feel, learn how they communicate and how they fight off invading armies. Through amazing research we learn more about how trees can communicate and contribute to the forest, sharing resources with seedlings or the vulnerable. It's confirmation for Judi that trees aren't just trees, they are a real community that help each other, humans and the planet.

DURATION
1 x 50 mins
GENRE
Nature, Special, New
SCREENERS
Please login/register to view screeners for this title.
Stills