Kingdom of Plants 3D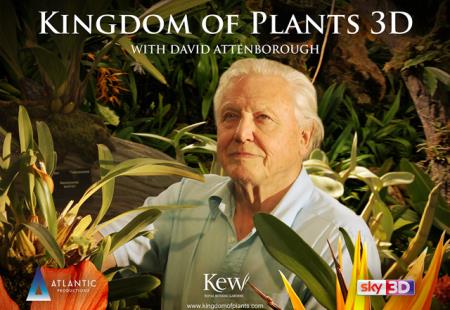 Filmed at Kew Gardens using pioneering techniques and stunning time-lapse photography, this cutting-edge series explores the fascinating world of plants like never before.
SYNOPSIS
The latest technology reveals a whole new dimension in the lives of plants, from the most bizarre to the most beautiful. In this sensational series, shot over the course of a year, we explore their fascinating world. Using time-lapse and pioneering techniques in macro photography, we trace them from their beginnings on land to their vital place in nature today, exposing new revelations along the way. We move from our time scale to theirs, revealing the true nature of plants as creatures that are every bit as dynamic and aggressive as animals. Guided by Sir David Attenborough we discover a microscopic world that's invisible to the naked eye, where insects feed and breed, where flowers fluoresce and where plants communicate with each other and with animals using scent and sound. We meet the extraordinary animals and fungi that have unbreakable ties with the plant world, from hawk moths and bats to tiny poison dart frogs, a giant tortoise and a fungus that can control the mind. And we see all this in one unique place, a microcosm of the whole plant world where, some 90% of all known plant species are represented: The Royal Botanic Gardens at Kew. This spectacular adventure through the Kingdom of Plants is so immersive and compelling it has the capacity to amaze even the least green-fingered.

Episode titles: Life in the Wet Zone, Solving the Secrets, Survival, and Making David Attenborough's Kingdom of Plant.
DURATION
4 x 50 mins
GENRE
Science, Nature, Attenborough, Series, 3D
SCREENERS
Please login/register to view screeners for this title.
Stills