Natural History Museum Alive 3D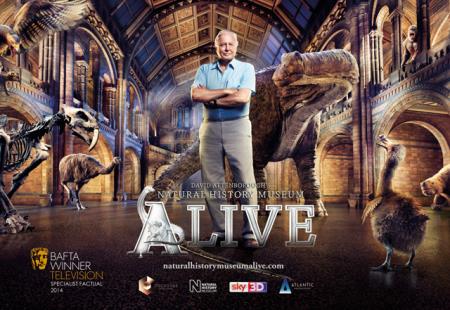 With the aid of state of the art CGI, join David Attenborough on an enchanting visit to the Natural History Museum after dark, when the exhibitions come to life.
SYNOPSIS
In this stunning new project Attenborough takes us on a journey through the world-famous Natural History Museum in London, revealing it as it's never been seen before, in a compelling tale of discovery, adventure and magic. As the doors are locked and night falls, Attenborough meets the extinct creatures that fascinate him the most, as they magically come alive in front of his eyes; dinosaurs, ice age beasts and giant reptiles. This is a special collaboration of experts and curators from the Natural History Museum with 3D and ground-breaking CGI technology. Set within the spectacular Natural History Museum, this film fulfils the dreams of the nation's favourite naturalist.

From the stories and myths surrounding their discovery and acquisition by the museum, to the somewhat fanciful Victorian interpretations, we gain a greater understanding of these amazing extinct creatures. Working with the world's leading scientists from the Natural History Museum, David is able to analyse each specimen, piecing together the clues before finally revealing each creature as it has never been seen before – Where did it live? What did it eat? And most importantly what did it look like?

DURATION
Versions: 1 x 65, 1 x 50 mins
GENRE
Science, Nature, Attenborough, Special, 3D, New
SCREENERS
Please login/register to view screeners for this title.
Stills