The Bachelor King 3D
aka The Penguin King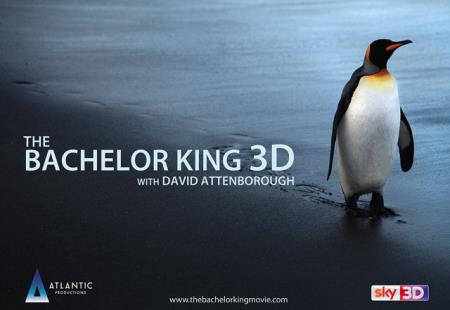 This is the journey of one King Penguin from awkward adolescent to adult.
SYNOPSIS
Stunning 3D cinematography takes us into an extraordinary, sub-Antarctic island, home to majestic albatrosses, brawling fur seals and six million penguins. It's a world away from human existence; but yet our hero's struggle is familiar to us all, young and old alike.

After three years out on the open ocean, our bachelor returns to the place where he was born and raised: Penguin City. On this densely-packed island, he looks to establish himself and find a mate. What follows is the most challenging time of his life. He must grow up fast to survive and raise chicks of his own.

Once he meets the penguin of his dreams, the two of them embark upon raising a family. Having witnessed his chick hatch, the parents work together to feed it, teach it, keep it warm against the harsh sub-Antarctic weather and protect it through its first danger-filled year. But with predators in the sky, the land, and the water, tragedy could lie around every corner. In the face of all these challenges, our king must persevere.

The Bachelor King's story is often comic, sometimes tragic, and ultimately triumphant; a rite of passage set within one of the earth's last great wildernesses.
DURATION
Versions: 1 x 75, 1 x 56, 1 x 50 mins
GENRE
Theatrical, Nature, Attenborough, Special, 3D
SCREENERS
Please login/register to view screeners for this title.
Stills