The Coronation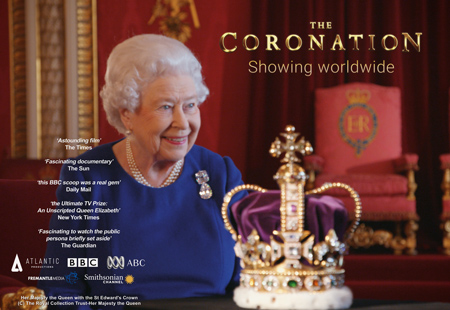 Marking the 65th anniversary of Her Majesty the Queen's coronation, The Queen shares her memories of the ceremony, as well as that of her father, King George VI.
SYNOPSIS
On 2 June 1953, after 16 months of planning, Her Majesty the Queen set out to be crowned at Westminster Abbey, an event watched by millions of people around the world. A ceremony dating back more than 1,000 years was to mark the dawn of a new Elizabethan age. Now, in what has become the longest reign of any British monarch, HM The Queen shares her memories of that day as well as the coronation of her father, King George VI, in 1937.

Exploring the role and symbolic meaning of the Crown Jewels in the centuries-old coronation ceremony, The Coronation shows these objects of astonishing beauty in a new light. A combination of HD cameras and special 4K lenses reveal the incredible secrets of a set of regalia that have a rich history of their own. Amongst the many glorious objects revealed, the film tells the extraordinary story of St Edward's Crown, which was destroyed after the English Civil War and remade for the coronation of Charles II in 1661. It has only been worn by Her Majesty once, at the moment she was crowned.

Shedding an entirely new perspective on this world-famous event, The Coronation brings together the eyewitness accounts of those who participated, including the maid of honour who nearly fainted in the Abbey. Using the Queen's recollections and new footage of the Crown Jewels, The Coronation reveals the story of this glittering ceremony.

DURATION
1 x 50 mins
GENRE
History / Current Affairs, Special, New
SCREENERS
Please login/register to view screeners for this title.
Stills